Delegate365
Delegate365 is a user-friendly, web-based portal for user, group and license management that allows to split a single Microsoft 365 tenant into smaller, manageable organizational units. Each organizational unit can use Delegate365 to manage itself within the defined scopes. Delegate365 supports delegation, automation and auditing.
Microsoft 365 meets Delegate365
Organizations need a more granular control for self-service tasks and delegation. With Delegate365, they can work with selected users, licenses, groups and other data that comes directly from Microsoft 365. Delegate365 works within a layer above Microsoft 365. All operations are directly made in Microsoft Azure Active Directory. Microsoft 365 end-user functionality is not affected by this management layer. No specific Microsoft 365 role assignments are needed.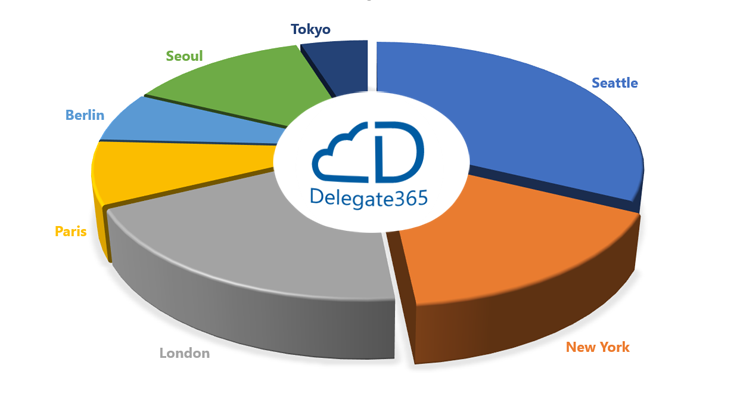 Delegate365 fills a gap
Microsoft 365 cannot fully delegate user roles and responsibilities. Delegate365 fills that gap and offers administrators an easy-to-use interface where each Microsoft Entra ID (Azure AD) object belongs to an organizational unit (OU). These units can be created by an administrator and can represent locations, departments or any other logical division. In addition, it can be clearly defined which user can be administered by which administrator. Each administrator can manage multiple OUs.
Delegation, Automation, Reporting and Auditing
Delegate365 adds functionality on top of Microsoft 365 and works as an Add-On with as new standard portal with advanced management features. The tool helps companies to meet their individual requirements and delegations. Administrators can define any number of organizational units and administrators who can manage only their units. Additionally, there´s more functionality, like license management, auditing and reporting built in.
Get started
More information
Find out more about Delegate365 in our online resources here:
Please contact us for more information or a demo.
At a glance
Solution
Delegate365
Features
Management tool for Microsoft 365
Licenses management
Delegation and Self-Service
Automation
Reporting
Auditing

Categories
Azure
Microsoft 365
Product
Tool
SaaS solution

Remarks
Available in the Microsoft App Source store
Available as 30-days trial
Use instantly
www.delegate365.com